| Bespoke | Quality | Confidence | Value | Fast | Service |
| --- | --- | --- | --- | --- | --- |
| Made to order | Materials and design | 36 years of passthrough hatch experience | Full life cycle savings | In stock | Australian manufactured and supported |
Why choose a Cleanrooms Australia Passthrough Hatch?
1. Better door seals
Because we use specialist stainless steel, we can utilise door seals that don't cause deflection in the doors making better seals.
The seals and doors last longer; perform better, requiring less maintenance .(doors and seals don't require replacing and perform longer) 2. High technology materials
The stainless steel we utilise is a highly specific material we have imported from international metal foundry's; the material is utilised in highly corrosive environments and has corrosive resistance properties equivalent to or exceeding 316 stainless steel and is also magnetic 3. Mechanically or electronically interlocked
Eliminate cross-contamination
4. High-quality electromagnets can be easily sourced locally supported for years to come
5. Mechanical interlock components made of solid 316 stainless for years of trouble-free operation
6. Designed with operator and facility safety in mind the removable base tray allows any spills in the pass-through hatch to be contained to the pass-through hatch allowing easy clean-up if it should ever occur
7. Heavy-duty 1.5mm Stainless steel
Robust construction methods
8. Bespoke
Able to meet any needs
9. Fast
Able to ship stock units in a week
10. Doors that are as easy to open as a fridge
11. 6 different door orientations to suit all options
Door swings can be chosen to suit the purpose 12. Confidence
Up to up to 10 year extended warranty so you can have confidence in the product lasting in a critical situation 13. Fully welded easily cleanable design
Our range of passthrough hatches are designed specifically to support GMP compliance
14. Double glassed doors for thermal cold tracking protection
15. Our value proposition includes the life cost of the item replicable hinge bushes interlock mechanisms door" closed adjustable latches and catches
16. Handle the full length of the door Easy
17. Australian based manufacturing
No international shipping delay
18. Australian based customer service
Able to call for assistance or enquiries during normal working hours and able to communicate issues and get answers to important questions
Pass Through Hatches
Cleanrooms Australia's range of pass through hatches offers simple, sturdy efficiency at its best.
All our pass through hatches are constructed by Cleanrooms Australia in Australia for the Australian market, and designed to achieve the highest levels of strength, longevity and serviceability.
Designing and constructing our pass through hatches in Australia comes with the added benefit of a short manufacture and delivery time, and minimises the cost of restricted production.
Our pass through hatches are available in a wide range of models and, because they are manufactured locally, any size variation can be accommodated.
The units are competitively priced against international suppliers, and when heavy loads need to be accommodated, the hatches can be matched to our tote trolleys to help prevent OH&S injuries.
What are the range of pass through hatches?
Standard
All our Standard pass through hatches can be manufactured in steel or stainless steel, and come mechanically interlocked as standard. They are the most popular and cost effective model.
Bleedthrough
Our Bleedthrough hatches are connected to your house clear air supply (HVAC) and allow material inside the hatch to be continually washed by clean air to minimise the level of possible contaminates entering the clean zone.
Terminally (HEPA) filtered
The Terminally Filtered pass through hatch is specifically designed for use in environments where protection is important for operators as well as the product, as in cytotoxic rooms. It ensures the highest level of contamination control.
Fan Assisted Terminally (HEPA) filtered
With a terminally mounted HEPA filter the Fan Assisted HEPA Filtered passthrough hatch ensures high contamination control while recycling filtered air, so no external air supply is required.
X20 radiation
These hatches are specifically designed and constructed to be used in x-ray or hot works areas. They are often used in conjunction with a room installation of an X20 standard.
Trolley
The most common Trolley passthrough hatch is designed and constructed to sit under a bench for easy loading and unloading of products from a trolley. Other variations include a taller hatch capable of housing a trolley or a hatch with multiple shelving levels for heavier loads.
What is a pass through hatch?
Pass through hatches are used to move material into and out of a cleanroom facility.
They constructed from stainless less steel and are available in a number of standard sizes. Pass through hatches can be floor mounted for use with trolleys, or mounted on a wall or bench.
Our units are custom made to order. That means we can construct a pass through hatch to any size or design is without international shipping delays.
Why would I need a pass through hatch?
Human traffic is a leading cause of contamination in a cleanroom environment. Pass through hatches allow materials to be moved into and out of a cleanroom without the need for staff to enter or exit the facility. This reduces the risk of human contamination and increases efficiency while retaining cross-contamination integrity.
What are the standard features of your pass through hatches?
Steel construction for strength and durability
Two-part epoxy finish
Mechanically interlocking doors for failsafe operation
2mm s/steel mechanism for many, many years of service
Doors are fitted with magnetic door seals to ensure perfect sealing even in a power failure situation
Doors are double glazed with alloy surrounds for easy cleaning and great vision into the box
Doors have adjustable torsion bar closing devices for operator-free closing (this allows removal of product with two hands and the door will automatically close and seal behind you)
Doors and hinges are designed to allow a quick onsite replacement of worn hinge bushes by staff
Doors are designed to be replaceable if damaged in operation (by staff with hand tools)
A standard lift-out base tray is included to allow any materials spilt to be retained inside the pass through hatch and to allow cleaning without contaminating the cleanroom
What optional extras can I choose from?
Electro-magnetic interlocking, with illuminated push button door release and power on light, with remote transformer if required
Full 445M2 No 4 Brush stainless steel construction
Hepa Bleed air .30L/s 100mm spigot (supply air from HOUSE HVAC to room or self-contained recirculating fan assist with speed controller and Magnehelic with output for alarm or control) Note: 10a 240v supply required
Stainless steel wire or tray shelving
Base tray and service walls can be fully sealed if required
Lead-lined boxes and doors (in conjunction with radiation services)
Constant bleed through, either from room pressure or from clean air supply
Stainless steel trolleys with product rails for use with heavy materials (OH&S requirement)
Double glazed glass see-through doors available with modesty curtains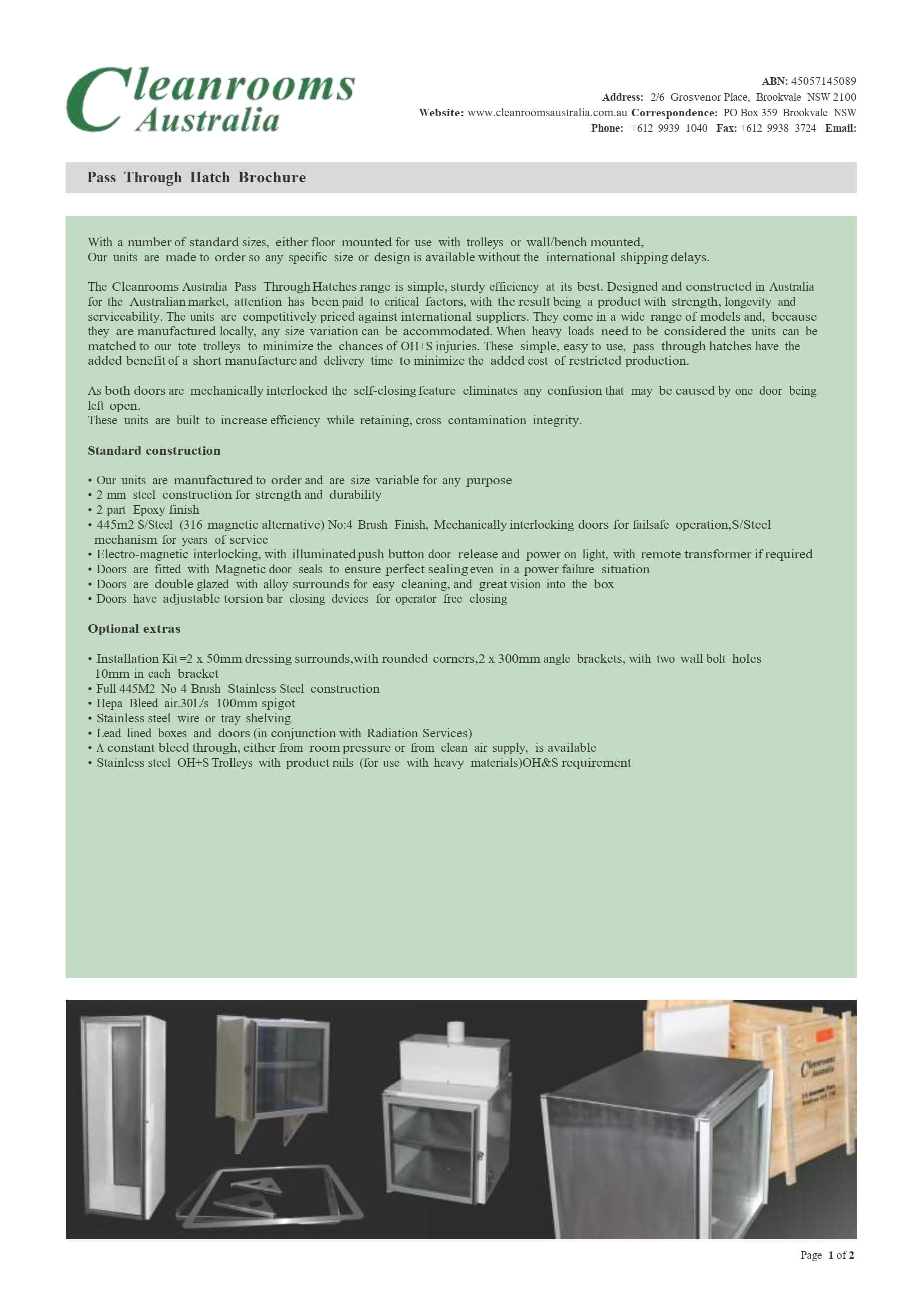 Are installation kits available?
Yes, they include:
2 x 50mm dressing surrounds with rounded corners
2 x 300mm angle brackets with two wall bolt holes 10mm in each bracket